Arab restaurant in Madrid
Beytna was born from wanting to bring Arab food and culture to a table full of friends and family who share love, friendship and good humor. This Arabic restaurant in Madrid is characterized by using the freshest ingredients that allow you to fully enjoy all the flavors of Middle Eastern food.
Our history
The word Beytna means "our home" and that is what has marked us to make this site a new home for all diners. We want them to feel at home and be able to relax and get carried away with the smells that flood the dining room.
Not only are we characterized by magnificent dishes, products and flavors, but we also have a service that is at the height of the kitchens. Our prepared and experienced waiters will make your evening a beautiful and comfortable memory, as if you were in your own home.
We have a wide variety of dishes in our menu. We have hot and cold starters, wood oven, charcoal grill … all this accompanied by the flavor and essence of the Middle East and the best ingredients.
The tasting menu: It is a good option to taste the best dishes of our menu. It consists of 8 appetizers of which 4 are cold and the other 4 hot. In addition to a main course of choice and a dessert.
Regarding salads, they all have an Arabic touch, such as the tabbouleh salad that has bulgur, a wheat that is subjected to prolonged cooking, starts with a high heat and then is reduced so that the cooking continues slowly. Or the fatoosh that has to add, a traditional Arabic seasoning.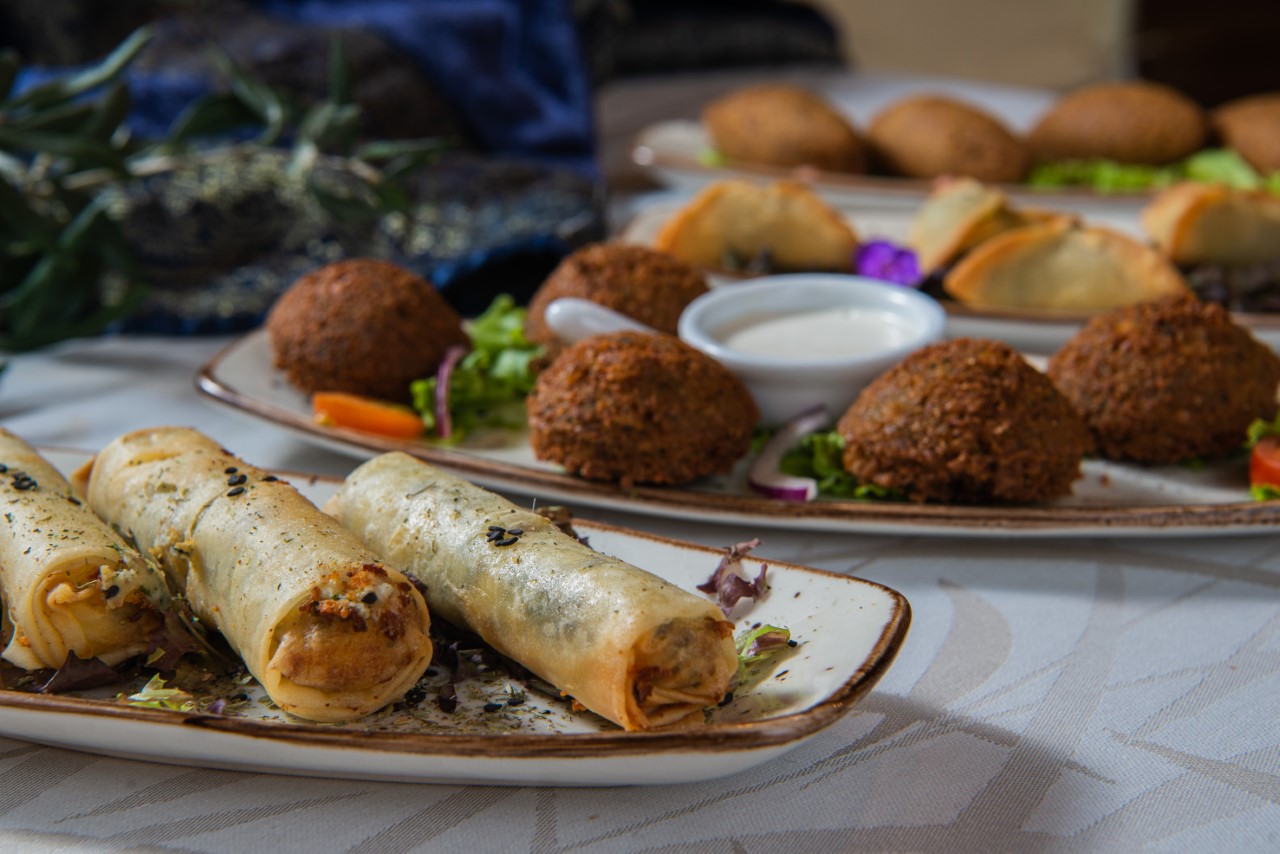 If you want to try something different, we recommend our charcoal grilled dishes that give the meat a special and tasty touch. We also cook fish such as sea bass and shrimp. However, if you fancy a more baked flavor we have Tagine of lamb or chicken, all with 100% fresh and quality ingredients.
If you are looking for healthier options we also have vegetable and soup dishes.
We have some roasted eggplants with tomato sauce, green pepper and gratin cheese cooked in a clay pot to give it a much more traditional flavor.
Soups are also a good option to savor the mix of cultures, with the soup of spiced lentils with cumin, sumac (spice), fried bread and garlic you can taste traditional food with a modern twist.
To give a sweet touch at the end of the meal we have the delicacies of the Middle East, our desserts as well as the main dishes have touches of Arabic cuisine. Halawet el jibn, for example, are semolina rolls stuffed with cream cheese, pistachio and orange blossom syrup duce.
If you have not yet seen our appearance on Telemadrid you can see it here.
You can also see the interesting program "Eat the world" of Spanish Television, with chef Javier Peña, where he teaches us to discover the Arab and Jordana cuisine.
We invite you to discover the best Arab Restaurant in Madrid,
Don't forget, book your table.